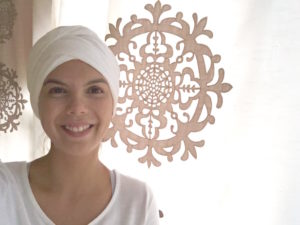 Welcome to Drops of Yoga. I'm Aiyana Fraley, my spiritual name is Arjan Shanti Kaur, and my purpose is to inspire people to find happiness through self-healing. To empower them with yogic technology and energy work in order to break through emotional, mental and physical pain. I am a registered yoga instructor, a KRI-certified kundalini instructor and licensed massage therapist of 18 years. I can say with confidence that yoga, bodywork and energy healing combined are powerful modalities that will guide you through energetic blocks in your life and lead to happiness.
Several years ago, I suffered a nervous breakdown. I was treated for depression and anxiety and prescribed medication. I chose to pursue the holistic route and search for the root of my ailment. I was able to overcome my anxiety and chronic fatigue through a consistent practice of these modalities. Over the years, I have integrated them into all aspect of my life and have been blessed with health and happiness.  Through my services, I offer a path to holistic living, where mind, body and spirit come into harmony.
I have over 700 hours of yoga training and 18 years in the massage therapy field. I studied asana, pranayama, meditation and philosophy, and specialize my yoga practice to kundalini, restorative yoga and meditation. The massage modalities I use include aromatherapy, hot stones, crystal stones, reiki and sound healing.
This site is an expression of my journey into self-healing and a way to connect with people like you. I am in deep gratitude for your visit. I believe you are here for a reason and hope to be of great service to you.
With love and light,
Aiyana Fraley
Arjan Shanti Kaur
---
Aiyana Fraley – Education & Certifications
KRI Kundalini Yoga Certification RYT-200- 2017, A Yoga Village
BLS (Basic Life Support) & AED Certification, 2017 – American Heart Association Approved
E-RYT 200 Yoga Alliance, 2017 – Educator's Recognition For Over 1000 Teaching Hours
Reiki Master Teacher Certification, St. Petersburg, FL
Licensed Massage Therapist MA73690
MA in Journalism – University of Miami, Coral Gables, Florida, 2008-2009
BA in Sociology & Anthropology – Florida International University, Miami, Florida, 2002-2007
Associate in Massage Therapy & Paramedical Skincare – Florida College of Natural Health, Miami, Florida, 1999-2001
Web Design & Development – Pinellas Technical College, Clearwater, Florida, 2013-2014
300 Hour Teacher Training – Studio 108 Yoga & Holistic Healing, Tampa, Florida, 2016
Yin Yoga Immersion Certificate – Studio 108 Yoga & Holistic Healing, Tampa, Florida, 2016
200-RYT Teacher Training  – St. Petersburg Yoga, St. Petersburg, Florida, 2013
Tian Di Bamboo Massage Training – Journey To the Heart, Cape Coral, Florida, 2015
Aromatouch Certificate – doTerra, Fort Myers, Florida, 2015
Restorative Yoga Certificate – Lotus Pond, Tampa, Florida, 2015
Yoga Nidra – Lotus Pond, Tampa, Florida, 2014