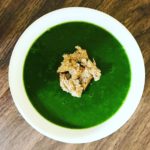 Print This
Ingredients
2 russet potatoes

5 ounces of baby spinach

1-2 cloves garlic

1/2 cup of yellow onion

4 cups of vegetable broth

salt and pepper to taste
Instructions
Prep:
Peel and chop potatoes.
Dice onion and garlic.
Cook:
Place potatoes in pot with water and boil until tender.
Bring a cooking pan to medium heat. Coat pan with cooking spray or oil and sauté onions for 2-4 minutes. Stir occasionally until onions are translucent.  Then add the garlic and sauté for an additional 2 minutes.
Remove water from pot containing potatoes and add the vegetable broth, sautéed onions and garlic, and spinach. Set heat to medium and cook for 3-5 minutes or until spinach is cooked.
Add salt and pepper to taste.
Set aside and allow vegetables to cool for about 10 minutes.
In a Vitamix or high powered blender,  add all contents of the pot and blend until smooth.
Serve with croutons or bread.
Notes
Caution: The Vitamix is designed to blend hot soups and allow for excess steam to release from the top opening. If using another blender, take precautions when blending hot ingredients.