When I first started practicing kundalini yoga, I was all over the place. I practiced on my breaks at work, in my car, when I had an emotional breakdown, in my home, in my backyard, on a park bench, and did I mention in my car?
My life was chaotic back then and I was going through some major transitions. Although I kept my practice and it worked for me at the time, the more my life settled down the more I realized I needed my yoga practice to be consistent and structured. Making this change helped me tremendously in moving forward in the issues I was working through, in letting them go and exploring deeper levels of the my Self.
As a kundalini yoga teacher, I get a lot of questions on how to start a kundalini practice at home. In this post, I will share with you easy steps on how to start based on my experience and advice I have received from my teachers. But first, what is kundalini yoga?
What Kundalini Yoga Is All About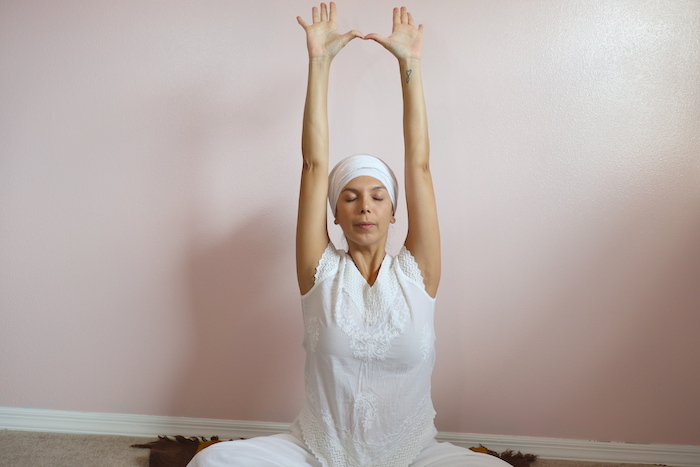 Kundalini yoga is known as the yoga of awareness and it provides yoga technology to clear the subconscious mind. Yes, I used the word technology and yoga together. This type of yoga is based on the science of the mind and body. It provides a method to reach higher levels of our spirit and so by definition it is a form of technology.
My spiritual teacher Yogi Bhajan talked a lot about the changing times ahead in the Aquarian Age, the time we are living now. These ancient teachings he shared graciously with us are tools to help us get through them and to elevate ourselves and others in the process. It is the awakening of the soul.
If you are committed to working on yourself, being happy, living healthy and discovering your own grace, this is the yoga for you. It has changed my life for better and I can go on and on about the positive impact it has had on me, but I will leave that for another time.
Ready Set Sat Nam…
Here are 10 steps to starting a kundalini yoga practice. Go through this step by step to create the right space and prepare yourself for daily meditation. I recommend starting with shorter meditations and building on them over time. Once you have a solid routine, practicing daily will feel effortless.
10 Steps To Starting A Kundalini Yoga Practice
1. Find A Location
Where you will practice is important because it will set the tone for your personal class. Your mind and body will automatically get into meditation mode when you step into your space, so choose a location that you will be able to access regularly and that is to your comfort. It can be a room in your home or a quiet space outside. Make sure the location has good ventilation, is the right temperature for you and is private enough you do not get disturbed when you start.
2. Build An Altar
An altar is a sacred space that will serve to support your spiritual practice. You can place items that are meaningful to you like photos, crystals, candles or feathers and stones you've collected. What is on your altar is completely up to you. Allow yourself to be creative and free when decorating it.
3. What To Wear
You'll want to wear comfortable clothes made of natural breathable fibers like cotton or linen. Many kundalini yogis choose to wear white and cover their heads but it is not required.
4. What You'll Need
Have a meditation pillow, yoga mat, blanket or wool rug to sit on. During meditation, the body's temperature tends to drop. Have a shawl or blanket to keep yourself warm and cozy. You'll also want to have relaxing background music or kundalini music to chant along to and a timer. Kundalini yoga meditations and kriyas are practiced for specific times. You can use the timer on your phone or purchase one that is easy to use.
5. When To Practice
The best time to meditate is during the amrit vela or the ambrosial hours of the morning, which are two hours before the sun rises. It is the quietest time of the day and said to have higher pranic energy. It is an ideal time to spiritually cleanse the body and restore balance. Consistency is key in making this a regular part of your day. If this time is not ideal for you, choose a time that is. No matter what time of day you choose to practice yoga it is better than not at all.
6. Eating
Practice kundalini yoga on an empty stomach. We use a lot of pranayam techniques that stimulate and move our energy, for example breath of fire. It would be uncomfortable for you to practice these breathing techniques on a full stomach. I recommend not eating at least two hours prior to your practice. If you must have a snack, choose something light like juice or fruit.
7. Journaling
After you are done with your meditation, I recommend writing down how you feel and any thoughts or emotions that come up. It can be as short or as long as you want it to be. Simply write what comes to mind and write for as long as your feel guided. Journaling after practice is a great tool for you to see your progress and to unveil messages and  experiences that are present. It helps bring clarity to our state of mind and heart.
8. Choosing A Meditation
If you are brand new to kundalini yoga, I recommend attending several classes with a certified instructor first. This will help you get a solid footing with the mantras, meditations, breathing techniques and have an experience of kundalini energy in a safe and comfortable environment. I offer students private kundalini instruction to help them start their practice. However, if an instructor is not available to you in your area, I would start with the following meditations: Long Deep Breathing or Kirtan Kriya.
9. Tuning In & Closing Chants
At the start of every kundalini yoga class we chant a mantra that tunes us in and centers our energy. The chant is called the Adi Mantra and it is repeated three times:
Ong Namo Guru Dev Namo

Ong Namo Guru Dev Namo

Ong Namo Guru Dev Namo
We close a kundalini yoga class with the Long Time Sun song, which is a blessing to yourself and everyone else. We sing this three times. You may choose to sing it on your own or use a recording from Snatam Kaur or another artist.
May the long time sun shine upon you, all love surround you, and the pure light within you, guide your way on.

May the long time sun shine upon you, all love surround you, and the pure light within you, guide your way on.

May the long time sun shine upon you, all love surround you, and the pure light within you, guide your way on, guide your way on, guide your way on!
10. Getting Started
Now that you have all the information you need to start practicing it is time to put it all together. Set your alarm on your phone to remind yourself of your practice time and make sure you have everything set up the day before so that you can start as soon as you enter your sacred space. Celebrate yourself for taking these steps as I am celebrating you.
I welcome you to this path of higher awareness. This is the beginning of a beautiful relationship you will develop with yourself and the collective consciousness.
Interested in private classes? Read my private kundalini yoga classes information page.