Kundalini Yoga FAQs
If you are new to kundalini yoga or curious about the practice and want to know more, you will find answers to the most frequently asked questions about Kundalini Yoga as taught by Yogi Bhajan on this page. I am a KRI-certified kundalini yoga teacher and I share the practice with my students in weekly classes and private sessions. For more information, email me at aiyana@dropsofyoga.com.
1. What is kundalini yoga?
Kundalini Yoga as taught by Yogi Bhajan is the yoga of awareness. The goal is to awaken an individual to their full human awareness. It unlocks a limitless potential within the individual that unites the finite with the infinite. That is to say the practice of kundalini yoga allows the individual to experience human consciousness beyond their physical body and experience their infinite selves. It is the science of the mind, body and spirit which is open to everyone regardless of religious beliefs, creed, yoga experience or  physical limitations. It is nondiscriminatory and non-denominational. The practice gives the individual the tools to break through the ego and experience higher levels of awareness that bring more peace, joy and wisdom to their lives.
2. What makes kundalini yoga different from other forms of yoga?
The difference between kundalini yoga and more common hatha based practices is kundalini is based on the tradition of raj yoga, which is the path to supreme consciousness. The practice uses all eight limbs of yoga through asana (physical exercise), pranayam (breathing), meditation and mantra (naad yoga). It is an experience of the Self.
3. What are the benefits?
Kundalini yoga balances the glandular system, strengthens the nervous system, balances emotions and helps an individual be less reactive.
Benefits of kundalini yoga include:
Increases strength, flexibility and overall well-being

Increase lunda capacity

Stimulates circulation

Detoxes liver, kidneys and skin

Boosts the immune system

Helps regulate and strengthen digestion

Decreases stress and anxiousness

Helps improve memory and focus

Releases bad habits

Reduces "fight or flight"

Promotes creativity, peace and happiness

Increases one's ability to adapt to change
4. Who is Yogi Bhajan?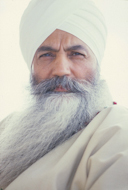 Yogi Bhajan (Siri Singh Sahib Bhai Sahib Harbhajan Singh Khalsa Yogiji) brought kundalini yoga to the west in 1969. During that time people were freely experimenting with drugs and sex and Yogi Bhajan saw a need among the people to receive the teachings. He openly shared his knowledge of kundalini yoga giving that generation a healthy alternative.
He started the 3HO foundation to continue to support the teachings and create yoga trainings and women's camps. Today, thousands of people live happy and healthy lives as a result of the teachings. Yogi Bhajan died in 2004 at the age of 75. His legacy lives on in the teachers who continue to share the tradition of kundalini yoga to the next generation.
5. What are the elements of kundalini yoga?
Yogi Bhajan taught kundalini yoga in a formatted style to keep the teachings pure. A kundalini yoga class taken anywhere in the world will include these six elements:
Tuning-in with the Adi Mantra chanted 3-5 times
Ong Namo Guru Dev Namo
I bow to the Creative Wisdom, I bow to the Divine Teacher within
Pranayam or warm-up

 Kriya (physical poses)

Relaxation (savasana)

Meditation

Closing blessing song Longtime Sun:
May the Long Time Sun Shine Upon You
All love surround you
And the pure light within you
Guide your way on
Guide your way on
Guide your way on
Followed by long Sat Nam
6. How do I prepare for a kundalini yoga class?
Wear comfortable clothes. Unlike hatha practices, tight clingy clothes are not encouraged because it may put pressure on the abdomen or increase body temperature. It is preferred to wear comfortable loose fitting clothes.

Do not eat heavy meals two hours before class. Fruits and light snacks are okay to eat up to 30 minutes before class time.

Since kundalini yoga cleanses the body, it is recommended to drink plenty of water before and after class.

Bring a yoga mat, sheepskin rug or wool rug; meditation cushion, shawl (if you tend to get cold); water.
7. What mantras should I know for class?
The mantras chanted in every kundalini yoga class are the Adi Mantra to tune in (see #1 in question 5), Sat Nam, Longtime Sun (see #6 in question 5).
Sat Nam is a bij mantra or seed sound. It means "truth is my identity" and it is said as a greeting to one another to acknowledge the mutual divinity between people and that "we are one." It is also said as a blessing as it unites us in love. Sat Nam is chanted at the end of a kundalini class to close.