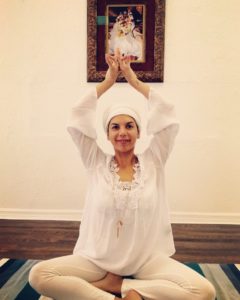 My vision is to inspire transformation and healing through the practice of yoga, therapeutic massage and energy work. My yoga classes and massage services are designed to improve your well-being and bring about peace, rest and relaxation allowing creativity to flow and compassionate living to unfold within. I take a mind, body, spirit approach to wellness and offer our clients a professional and nurturing environment to deepen their experience.
My name is Aiyana Fraley, my spiritual name is Arjan Shanti Kaur, I founded Drops of Yoga LLC to share the wealth of knowledge and experience I have in yoga and the healing arts. I am a licensed massage therapist and esthetician of 17 years and an E-RYT certified yoga instructor through Yoga Alliance. My areas of expertise include stress relief, pain management, and emotional balancing.
I have in-depth training in meditation, energy healing, restorative and kundalini yoga, therapeutic bodywork and aromatherapy. I am a continuing education provider for the Florida Board of Massage Therapy and Yoga Alliance. Through my organization, I offer trainings and workshops throughout the year. Find out more about my trainings here.